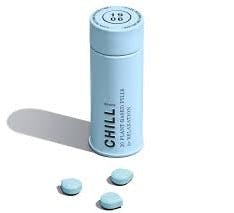 Brand: 1906
1906 - Drops - Chill - 100mg
CBD:529.49mg
A perfectly balanced blend of stress-reducing plant medicines and relaxing cannabis to promote a tranquil mind and a calm body. Chill is 1906's ultimate mellow-out cocktail, the perfect mix of THC and a high dose of CBD (25mg) to relieve stress, body tension and inflammation. It's formulated with two calming plant medicines: Magnolia, which has been used for centuries in traditional Chinese medicine; and L-theanine, an amino acid derived from green tea, which stimulates the brain's soothing alpha waves.
View Product Testing Data
CBD (Cannabidiol)
529.49
CBD (Cannabidiol)-529.49
CBD is the second most prevalent cannabinoid and is primarily produced by hemp plants and at lower amounts in cannabis. It works as a phytocannabinoid, or binding agent, that adheres to an individual's endocannabinoid system. Cannabidiol has soared in popularity due to its lack of psychoactive effects. Most users seek CBD for its medicinal properties since it was the first cannabinoid to be approved by the FDA. Its healing properties include an ability to help you relax, reduce irritability and ease restlessness.
THC-D9 (Delta 9–tetrahydrocannabinol)
109.14
THC-D9 (Delta 9–tetrahydrocannabinol)-109.14
Delta 9 THC is the primary compound found in the resinous glands of a cannabis plant, and is directly responsible for psychoactive effects. It mirrors the body's naturally occurring cannabinoids and attaches to these receptors to alter and enhance sensory perception. THC can create a feeling of euphoria by enhancing dopamine levels in the brain. The amount of THC in a cannabis product can vary widely based on the method of consumption and the strain at the source of that product. The high that is produced is often enhanced by the "entourage effect" which is a combination of multiple cannabinoids in conjunction with various terpenes and individual body chemistry.
About the brand :
1906
1906 is named for the last time cannabis was nationally accepted as a beneficial, versatile medicine. We believe it's high time to bring cannabis back to the mainstream for the greater good (and the greater fun). Our mission is to revolutionize self-care with more effective, more accessible options for everyday needs. We have created six thoughtfully-engineered formulas to help you do all the life stuff better—whether that's improving energy levels, relaxation, focus, mood, sex, or sleep. Each formulation is an optimal combination of medicinal plants and single-strain pesticide free cannabis. Every 1906 experience—whether it's chocolate or a swallowable pill--contains a patented technology that makes it the fastest-acting edible in the world, with an onset of 20 minutes or less.