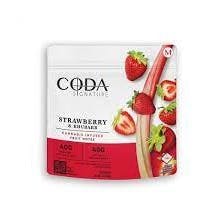 Brand: Coda Signature
Coda - Fruit Notes - Strawberry & Rhubarb - 1:1
Hybrid
THC:100mg
CBD:94.84mg
Edibles are created either by infusing cooking oil or butter with cannabis extract, or by mixing extract directly into other ingredients. Because edibles are digested and absorbed by your stomach and liver, the activation is often longer than other consumption methods, taking on average 45 minutes, and sometimes up to 2 hours. It is important to start low and slow when consuming edibles so you don't over do it. Take extra caution to ensure edibles are out of the reach of children.
Effects
Calm
Happy
Relaxed
Energetic
Clear Mind
Uplifted
View Product Testing Data
CBD (Cannabidiol)
94.84
CBD (Cannabidiol)-94.84
CBD is the second most prevalent cannabinoid and is primarily produced by hemp plants and at lower amounts in cannabis. It works as a phytocannabinoid, or binding agent, that adheres to an individual's endocannabinoid system. Cannabidiol has soared in popularity due to its lack of psychoactive effects. Most users seek CBD for its medicinal properties since it was the first cannabinoid to be approved by the FDA. Its healing properties include an ability to help you relax, reduce irritability and ease restlessness.
THC-D9 (Delta 9–tetrahydrocannabinol)
99.53
THC-D9 (Delta 9–tetrahydrocannabinol)-99.53
Delta 9 THC is the primary compound found in the resinous glands of a cannabis plant, and is directly responsible for psychoactive effects. It mirrors the body's naturally occurring cannabinoids and attaches to these receptors to alter and enhance sensory perception. THC can create a feeling of euphoria by enhancing dopamine levels in the brain. The amount of THC in a cannabis product can vary widely based on the method of consumption and the strain at the source of that product. The high that is produced is often enhanced by the "entourage effect" which is a combination of multiple cannabinoids in conjunction with various terpenes and individual body chemistry.
About the brand :
Coda Signature
Coda Signature was founded in 2015 with a clear vision- to set the standard of excellence in the cannabis industry. With music as their muse and cannabis as our medium, Coda Signature creates cannabis infused products full of inspiration and imagination. Coda Signature represents decades of collective experience ranging from organic chemistry and classical French training to industrial design and entrepreneurship. Their team embodies many elements-knowledge, passion, courage, and whimsy- working in concert to achieve proper execution every time. Coda believes the experience of cannabis should begin simply with the highest quality CO2 extracted cannabis oil, the resonating sound that connects all of our products. The collection of Coda Signature infused edibles, topicals, and concentrates tell a story through exciting colors, bold flavors, and luxurious aromas that harmonize seamlessly with impeccable craftsmanship and quality ingredients. Coda Signature elevates the experience of cannabis the way music elevates life.