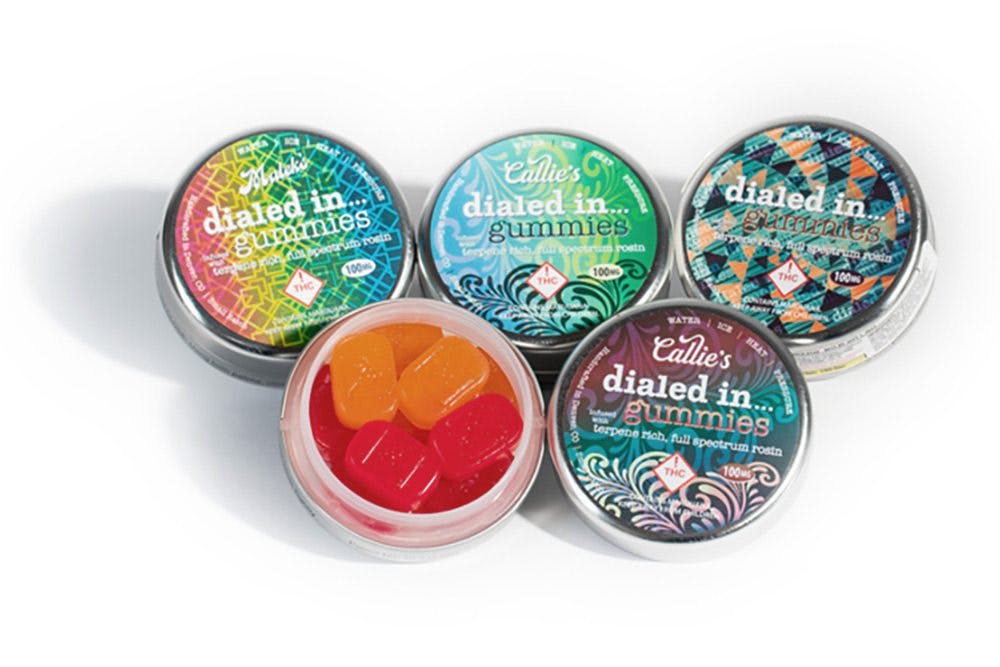 Brand: dialed in...gummies
Dialed In - Rosin Gummies - Zeetah Piss - 100mg
Indica
THC:100mg
CBD:1.37mg
Cannabis infused gummies evenly dosed commonly sold in multi-packs, which makes controlling your intake easy and reliable. Because edibles are digested and absorbed by your stomach and liver, the activation is often longer than other consumption methods, taking on average 45 minutes, and sometimes up to 2 hours. It is important to start low and slow when consuming edibles so you don't over do it. Take extra caution to ensure edibles are out of the reach of children.
Effects
Happy
Relaxed
Sleepy
View Product Testing Data
Caryophyllene
2.22%
Caryophyllene
2.22%
Caryophyllene, or more specifically Beta-caryophyllene is known for it's wide variety of potential health benefits both physically & mentally. This terpene has a unique ability to bind to the CB2 receptors; CB2 receptors are targeted when treating pain & inflammation with cannabis. Beta-caryophyllene is also approved for use in food by the FDA & is commonly found in black pepper, cinnamon, & basil.
Aromas
Sharp
Spice
Sweet
Pepper
Potential Health Benefits
Anti-depression
Anti-inflammatory
Cancer Fighting
Pain Relief
Gastrointestinal
Anti-anxiety
Anti-diabetic
Humulene
0.78%
Humulene
0.78%
Commonly found in ginseng, ginger, & hops, Humulene is known to lend its robust characteristics to the different scents of cannabis. This terpene has been used in holistic practices for hundreds of years due to its strong anti-inflammatory properties. Humulene has also been reported to act as an appetite suppressant.
Aromas
Herbal
Spice
Woody
Earthy
Potential Health Benefits
Anti-inflammatory
Cancer Fighting
Appetite Suppressant
About the brand :
dialed in...gummies
From the very beginning, Dialed In has always had a passion to create the very best extracts available. Terpene rich, solventless hash made from ice, water, heat and pressure – in their opinion – is the very best extract available. Their unsettling obsession and internal pursuit was translating this into an edible product, something the cannabis market lacked. Mindful in their approach, Dialed In…Gummies was created. Dialed In…Gummies are produced in small batches using a unique sous vide process and high quality ingredients derived from fruits and vegetables. Every batch is infused with a solventless rosin processed from strain specific collaborations with some of the finest cultivators in Colorado. Their process – while not simple – is essential for delivering the quality that they are beyond excited to provide.