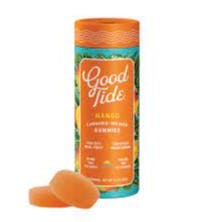 Brand: Good Tide
Good Tide - Rosin Gummies - Mango - 100mg
Cannabis infused gummies evenly dosed commonly sold in multi-packs, which makes controlling your intake easy and reliable. Because edibles are digested and absorbed by your stomach and liver, the activation is often longer than other consumption methods, taking on average 45 minutes, and sometimes up to 2 hours. It is important to start low and slow when consuming edibles so you don't over do it. Take extra caution to ensure edibles are out of the reach of children.
View Product Testing Data
THC-D9 (Delta 9–tetrahydrocannabinol)
96.88
THC-D9 (Delta 9–tetrahydrocannabinol)-96.88
Delta 9 THC is the primary compound found in the resinous glands of a cannabis plant, and is directly responsible for psychoactive effects. It mirrors the body's naturally occurring cannabinoids and attaches to these receptors to alter and enhance sensory perception. THC can create a feeling of euphoria by enhancing dopamine levels in the brain. The amount of THC in a cannabis product can vary widely based on the method of consumption and the strain at the source of that product. The high that is produced is often enhanced by the "entourage effect" which is a combination of multiple cannabinoids in conjunction with various terpenes and individual body chemistry.
About the brand :
Good Tide
Bursting with tropical goodness, Good Tide gummies transport you to a place where the sun is always shining. Made with solventless hash rosin, and full of naturally occurring terpenes and minor cannabinoids, Good Tide is made for fun in the sun, hanging with friends, and turning on your inner chill. Take a tropical vacation and enjoy all that cannabis has to offer. They want to make the world a better place, and they take that seriously. With compostable packaging, carbon neutral operations, and community partnerships, they work hard to contribute to healthy communities and ecosystems. They make waves with their products and approach, staying true to what they believe in. Good Tide challenges norms and sets the bar higher. Good Tide is vegan and made with real fruit. They are proud to be a Climate Neutral Certified brand.