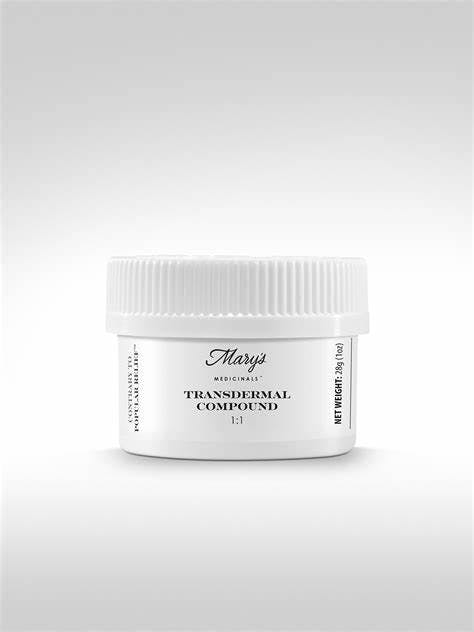 Brand: Mary's Medicinals
Mary's Medicinals - 1:1 Compound 1oz
CBD:1.73mg
Topical cannabis products are intended to be absorbed into the bloodstream through your skin. While not intended to have psychoactive effects, topicals can range widely in potency and efficacy and should be applied incrementally. Topicals are primarily used to ease muscle and joint pain, but can also be used for headaches, cramps, and more. Warming the application area slightly beforehand will aid absorption.
View Product Testing Data
CBD (Cannabidiol)
1.73
CBD (Cannabidiol)-1.73
CBD is the second most prevalent cannabinoid and is primarily produced by hemp plants and at lower amounts in cannabis. It works as a phytocannabinoid, or binding agent, that adheres to an individual's endocannabinoid system. Cannabidiol has soared in popularity due to its lack of psychoactive effects. Most users seek CBD for its medicinal properties since it was the first cannabinoid to be approved by the FDA. Its healing properties include an ability to help you relax, reduce irritability and ease restlessness.
THC-D9 (Delta 9–tetrahydrocannabinol)
1.69
THC-D9 (Delta 9–tetrahydrocannabinol)-1.69
Delta 9 THC is the primary compound found in the resinous glands of a cannabis plant, and is directly responsible for psychoactive effects. It mirrors the body's naturally occurring cannabinoids and attaches to these receptors to alter and enhance sensory perception. THC can create a feeling of euphoria by enhancing dopamine levels in the brain. The amount of THC in a cannabis product can vary widely based on the method of consumption and the strain at the source of that product. The high that is produced is often enhanced by the "entourage effect" which is a combination of multiple cannabinoids in conjunction with various terpenes and individual body chemistry.
About the brand :
Mary's Medicinals
Best known as the developer and exclusive distributor of the award-winning Transdermal Cannabis Patch, Mary's is transforming how people view and utilize cannabis; developing products that maximize the benefits of cannabinoids, terpenes and other plant nutrients. In addition to being the first to deliver transdermal cannabis products, Mary's was first-to-market the useful benefits of THCa and CBN, discovered harvesting techniques for the isolation of CBC, and continues to develop new cutting-edge approaches for isolating, manufacturing and marketing medicinal cannabis. From our founder and partners to our scientists and production associates, our passion is paramount in everything we do. We firmly believe in the healing benefits of plant-based medicine and in particular, cannabis – both from our own experiences and the incredible results we witness in patients.