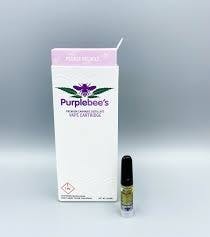 Brand: Purplebee's
Purplebee's - Cartridge - I - Wedding Cake
Cannabis vaporizers are a great way to consume discreetly and consistently. Vape cartridges contain concentrated cannabis oil that is heated by a battery and vaporized for inhalation. These products are very potent and are designed to be consumed in 2-3 second puffs.
Effects
Relaxed
Sleepy
Happy
View Product Testing Data
Para Isopropyltouluene
0mg/g
Para Isopropyltouluene
0mg/g
Para Isopropyltouluene is also known as Para-Cymene, and commonly referred to as p-Cymene. p-Cymene is a monoterpene compound with a sweet citrus aroma. It is found in the essential oils of many plants including thyme, grapefruit, oregano, and cannabis. Para-Cymene has shown great promise as an anti-fungal and can be found in many different topical applications.
Aromas
Sweet
Citrus
Potential Health Benefits
Anti-fungal
Anti-oxidant
Cancer Fighting
Pain Relief
THC-D9 (Delta 9–tetrahydrocannabinol)
1000
THC-D9 (Delta 9–tetrahydrocannabinol)-1000
Delta 9 THC is the primary compound found in the resinous glands of a cannabis plant, and is directly responsible for psychoactive effects. It mirrors the body's naturally occurring cannabinoids and attaches to these receptors to alter and enhance sensory perception. THC can create a feeling of euphoria by enhancing dopamine levels in the brain. The amount of THC in a cannabis product can vary widely based on the method of consumption and the strain at the source of that product. The high that is produced is often enhanced by the "entourage effect" which is a combination of multiple cannabinoids in conjunction with various terpenes and individual body chemistry.
About the brand :
Purplebee's
Purplebee's strives to manufacture the finest cannabis extracts and infused products using sustainable business practices. Their extraction processes strive to maintain the whole-plant profile and retain the natural terpenes. Where other extractors focus on yield and potency, Purplebee's puts those aspects second in importance to efficacy, flavor, and taste. They extract with carbon dioxide, the only natural, safe solvent that is not harmful to ingest. All Purplebee's products are made with CO2 cannabis oil extracted on-site from the finest locally-grown cannabis in Colorado, and contain no artificial colors, flavors or cutting agents.