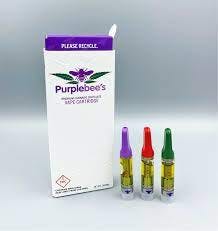 Brand: Purplebee's
Purplebee's - Cartridge - O.G. Kush
It starts almost as soon as you exhale, filling your brain with an uplifted sense of unfocused happiness and ease. You'll find yourself feeling sociable and outgoing, chatting with anyone and everyone around you, although you may fall in and out of fits of the giggles at times. A pang of hunger comes next, leaving you with a heavy case of the munchies and reaching for anything in sight to snack on. Concentrated cannabis products come in a wide variety of consistencies, compositions, and potencies. Cannabinoids are isolated and removed from plant material via extraction, agitation, compression, or other methods to create generally a very potent product. Concentrates have an immediate activation time and are generally used by experienced consumers.
Effects
Relaxed
Sleepy
Happy
Clear Mind
Calm
View Product Testing Data
Para Isopropyltouluene
0mg/g
Para Isopropyltouluene
0mg/g
Para Isopropyltouluene is also known as Para-Cymene, and commonly referred to as p-Cymene. p-Cymene is a monoterpene compound with a sweet citrus aroma. It is found in the essential oils of many plants including thyme, grapefruit, oregano, and cannabis. Para-Cymene has shown great promise as an anti-fungal and can be found in many different topical applications.
Aromas
Sweet
Citrus
Potential Health Benefits
Anti-fungal
Anti-oxidant
Cancer Fighting
Pain Relief
About the brand :
Purplebee's
Purplebee's strives to manufacture the finest cannabis extracts and infused products using sustainable business practices. Their extraction processes strive to maintain the whole-plant profile and retain the natural terpenes. Where other extractors focus on yield and potency, Purplebee's puts those aspects second in importance to efficacy, flavor, and taste. They extract with carbon dioxide, the only natural, safe solvent that is not harmful to ingest. All Purplebee's products are made with CO2 cannabis oil extracted on-site from the finest locally-grown cannabis in Colorado, and contain no artificial colors, flavors or cutting agents.