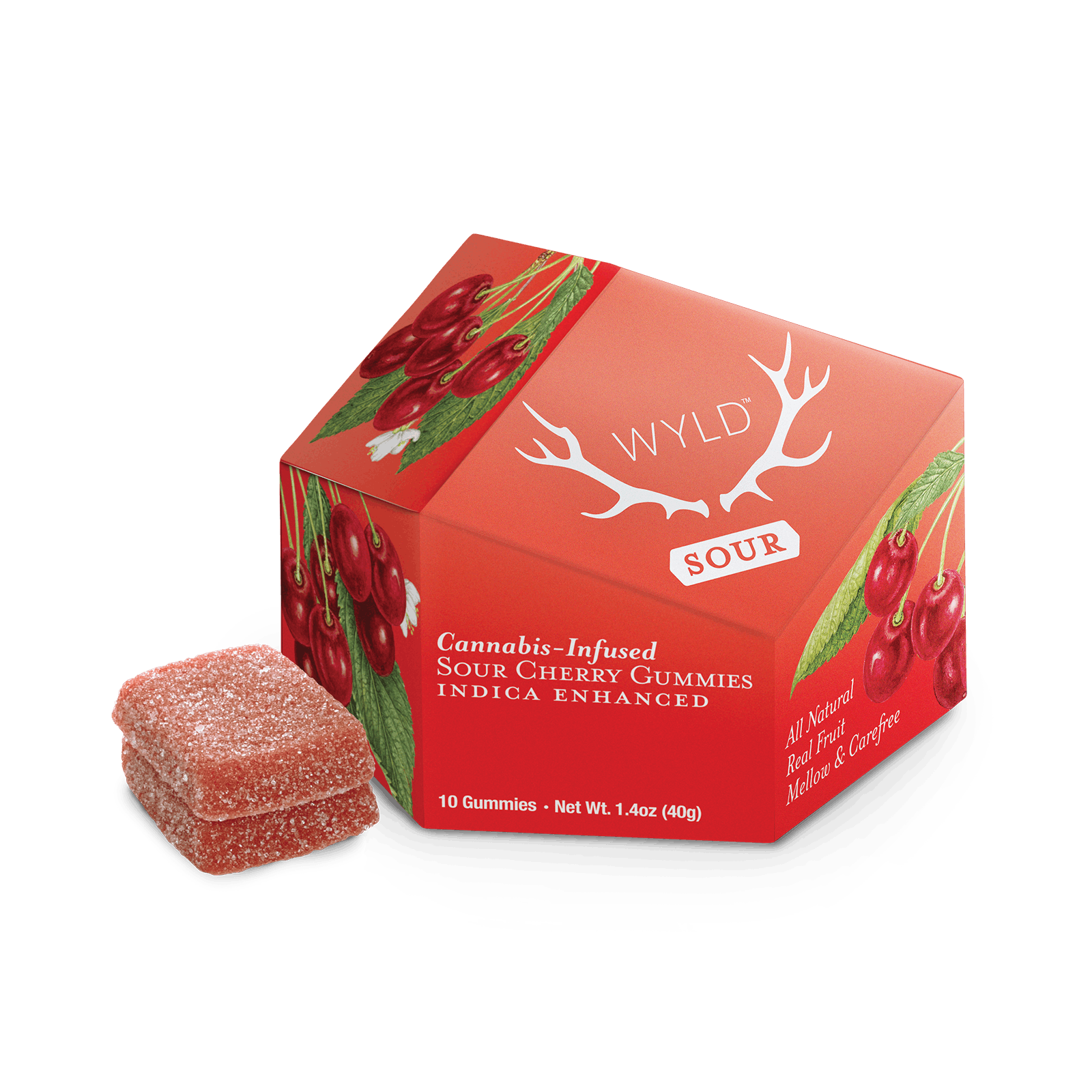 Brand: Wyld
Sour Cherry Indica Enhanced Gummies
Wyld's Sour Cherry Indica Enhanced gummies are perfect for unwinding after life's great adventures. Made with real fruit and botanical terpenes, these gummies pack a tart twist. It's a little like a hammock for your inner thoughts.
Effects
Happy
Relaxed
Sleepy
View Product Testing Data
Terpineol
0%
Terpineol
0%
Terpineol is known for its extensive potential health benefits ranging from its ability to reduce blood pressure to its skin penetration enhancing effects, making skin-patches more effective. Commonly found as an ingredient in soaps & lotions, terpineol is also found naturally occurring in eucalyptus, lilacs & pine trees. While terpineol doesn't contribute any psychoactive properties, the potential health benefits alone make it worth having in your next selected strain.
Aromas
Pine
Woody
Potential Health Benefits
Pain Relief
Anti-inflammatory
Cancer Fighting
Sleep aid
Sedative
Gastrointestinal
Respiratory Function
Linalool
0%
Linalool
0%
Linalool is a multi-use terpene that carries a strong calming effect as well as an ability to act as an anticonvulsant in epileptic patients. Found in the plants rosewood, coriander, & lavender, Linalool is a popular terpene commonly present in over 200 species of plants across the world. Linalool is a good addition to your terpene selection when looking for a little R & R.
Aromas
Floral
Herbal
Lavender
Effects
Comfort
Potential Health Benefits
Anti-anxiety
Anti-inflammatory
Sedative
Pain Relief
Stress Relief
Sleep aid
Cancer Fighting
Beta Caryophyllene
0%
Beta Caryophyllene
0%
Beta-caryophyllene is known for it's wide variety of potential health benefits both physically & mentally. This terpene has a unique ability to bind to the CB2 receptors; CB2 receptors are targeted when treating pain & inflammation with cannabis. Beta-caryophyllene is also approved for use in food by the FDA & is commonly found in black pepper, cinnamon, & basil.
Aromas
Sharp
Spice
Sweet
Wood
Potential Health Benefits
Anti-inflammatory
Gastrointestinal
Cancer Fighting
Anti-depression
Anti-anxiety
Pain Relief
Brain Function
Anti-diabetic
Myrcene
0%
Myrcene
0%
One of the most common terpenes found in cannabis. Myrcene is known to increase the effects of the psychoactive properties of THC in addition to some of the health benefits found in CBD. Commonly found in parsley, mangoes & hops, Myrcene is a good option for those looking to add a little relaxation to their overall experience.
Aromas
Cloves
Earthy
Musk
Effects
Comfort
Potential Health Benefits
Anti-anxiety
Cancer Fighting
Anti-inflammatory
Sedative
About the brand :
Wyld
Wyld was founded in 2016 to create best-in-class cannabis edibles using real fruit and natural flavors. What began as three college friends over a two-burner stove is now a best-selling edibles brand. Wyld has made this journey by remaining independent, and staying true to their vision of a better definition of success. Wyld embraces challenges, tests boundaries, and lives life to the fullest. They have focused on building a strong community of retailers, budtenders, and consumers who all agree on one thing: Wyld Works. Real fruit. Real flavor. Real quality. That's the Wyld way. Grab a box today and find out why Wyld is America's top-selling edible!