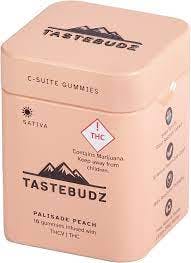 Brand: TasteBudz
Tastebudz - C-Suite - Palisade Peach - THCv:THC - 50:50mg
Edibles are created either by infusing cooking oil or butter with cannabis extract, or by mixing extract directly into other ingredients. Because edibles are digested and absorbed by your stomach and liver, the activation is often longer than other consumption methods, taking on average 45 minutes, and sometimes up to 2 hours. It is important to start low and slow when consuming edibles so you don't over do it. Take extra caution to ensure edibles are out of the reach of children.
Effects
Calm
Happy
Relaxed
Energetic
View Product Testing Data
THC-D9 (Delta 9–tetrahydrocannabinol)
5.16
THC-D9 (Delta 9–tetrahydrocannabinol)-5.16
Delta 9 THC is the primary compound found in the resinous glands of a cannabis plant, and is directly responsible for psychoactive effects. It mirrors the body's naturally occurring cannabinoids and attaches to these receptors to alter and enhance sensory perception. THC can create a feeling of euphoria by enhancing dopamine levels in the brain. The amount of THC in a cannabis product can vary widely based on the method of consumption and the strain at the source of that product. The high that is produced is often enhanced by the "entourage effect" which is a combination of multiple cannabinoids in conjunction with various terpenes and individual body chemistry.
About the brand :
TasteBudz
Intentionally crafted since 2017. TasteBudz believes hand-selected strains and in-house extraction lie at the heart of a premium cannabis experience. They create their own single-source, solventless extracts that are true-to-the-plant and deliver the distinctive benefits of each unique strain. Consumers are encouraged to take note of the terpene and cannabinoid profiles of the strains they love and use that to inform future product selection.