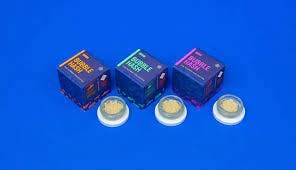 Brand: The Flower Collective
TFC - Bubble Hash - Chemodo Dragon (H)
Concentrated cannabis products come in a wide variety of consistencies, compositions, and potencies. Cannabinoids are isolated and removed from plant material via extraction, agitation, compression, or other methods to create generally a very potent product. Concentrates have an immediate activation time and are generally used by experienced consumers.
Effects
Calm
Happy
Relaxed
Energetic
Clear Mind
View Product Testing Data
THC-D9 (Delta 9–tetrahydrocannabinol)
5.82
THC-D9 (Delta 9–tetrahydrocannabinol)-5.82
Delta 9 THC is the primary compound found in the resinous glands of a cannabis plant, and is directly responsible for psychoactive effects. It mirrors the body's naturally occurring cannabinoids and attaches to these receptors to alter and enhance sensory perception. THC can create a feeling of euphoria by enhancing dopamine levels in the brain. The amount of THC in a cannabis product can vary widely based on the method of consumption and the strain at the source of that product. The high that is produced is often enhanced by the "entourage effect" which is a combination of multiple cannabinoids in conjunction with various terpenes and individual body chemistry.
THCA (Δ9-tetrahydrocannabinolic acid)
52.7
THCA (Δ9-tetrahydrocannabinolic acid)-52.7
THCA is a cannabis compound with a laundry list of potential mental and physical health benefits. THCA is the non-psychoactive precursor to THC, the most famous cannabinoid of all. While THC is responsible for the psychoactive "high" that so many of us enjoy, THCA has shown great promise as an anti-inflammatory, neuroprotectant and anti-emetic for appetite loss and treatment of nausea. THCA is found in its highest levels in living or freshly harvested cannabis samples. For this reason some users choose to juice fresh cannabis leaves and flowers to get as much THCA as possible.
About the brand :
The Flower Collective
The Flower Collective is happily headquartered in Nederland, Colorado, a glacier-formed basin near the Rockies. Ned's small in size (1.55 square miles) and in population: 1,534 good-natured folks, according to the last census. It's the place to go (or to build a business like ours) if you seek fresh flowing water, clean air, and untrampled wilderness. More about that fresh flowing water: It comes from snowmelt in the Indian Peaks Wilderness, and it's all TFC uses to water their flowers. TFC's water circulation system allows their team to re-use much of the captured snowmelt, minimizing their impact on the watershed and saving some for the trout. TFC began manufacturing Bubble Hash in 2015, created Bubble Joints™ and Bubble Blunts™ in 2016, and got turned on to rosin in 2018. They now offer a rotating lineup of house-harvested flower with all of their products strain-specific to the high you seek.