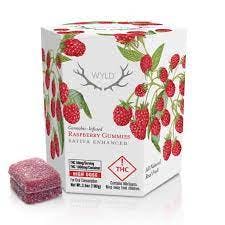 Brand: Wyld
WYLD - Gummies - Raspberry Sativa
Cannabis infused gummies evenly dosed commonly sold in multi-packs, which makes controlling your intake easy and reliable. Because edibles are digested and absorbed by your stomach and liver, the activation is often longer than other consumption methods, taking on average 45 minutes, and sometimes up to 2 hours. It is important to start low and slow when consuming edibles so you don't over do it. Take extra caution to ensure edibles are out of the reach of children.
Effects
Energetic
Happy
Creative
Focused
Inspired
View Product Testing Data
THC-D9 (Delta 9–tetrahydrocannabinol)
1067.57
THC-D9 (Delta 9–tetrahydrocannabinol)-1067.57
Delta 9 THC is the primary compound found in the resinous glands of a cannabis plant, and is directly responsible for psychoactive effects. It mirrors the body's naturally occurring cannabinoids and attaches to these receptors to alter and enhance sensory perception. THC can create a feeling of euphoria by enhancing dopamine levels in the brain. The amount of THC in a cannabis product can vary widely based on the method of consumption and the strain at the source of that product. The high that is produced is often enhanced by the "entourage effect" which is a combination of multiple cannabinoids in conjunction with various terpenes and individual body chemistry.
About the brand :
Wyld
Wyld was founded in 2016 to create best-in-class cannabis edibles using real fruit and natural flavors. What began as three college friends over a two-burner stove is now a best-selling edibles brand. Wyld has made this journey by remaining independent, and staying true to their vision of a better definition of success. Wyld embraces challenges, tests boundaries, and lives life to the fullest. They have focused on building a strong community of retailers, budtenders, and consumers who all agree on one thing: Wyld Works. Real fruit. Real flavor. Real quality. That's the Wyld way. Grab a box today and find out why Wyld is America's top-selling edible!